Champion Toolkit
We are so thankful for your dedication to our community and hope to provide you some tools to get you started. Together, we believe all children and families deserve a safe place to call home. Everyone can play a role, and the goal of LIVE UNITED Give United Day. Here's how you can rally those around you to LIVE UNITED. 
Being a LIVE UNITED Give United Day Champion is as easy as...
1
Become a Champion
Commit to raising awareness and funds on LIVE UNITED Give United Day by taking the first step and building your unique champion web page.
2
Tell Your Story
Populate your page by using the Fundraiser Dashboard to share your personal messages of why this work is important and others should join you with images, copy, or even video.
3
Spread the Word
Share your champion page with your network and see the amazing influence you can have on changing our community.
---
Champion Basics
How do I become a Champion?
It's easy! Go to liveunitedgiveunitedday.org or click HERE, followed by the "Fundraise" button to build your unique champion web page. Or reach out to our United Way team at unitedway@unitedwaycassclay.org and we would love to connect with you.
What link do I share?
You'll want to share the link created for your fundraising page found in your Fundraising Dashboard.
How do I get the word out?
To get the word out about LIVE UNITED Give United Day, you'll want to communicate with your friends, family, coworkers, and network through social media, emails, flyers, and/or word of mouth. Check out the resources below for ideas!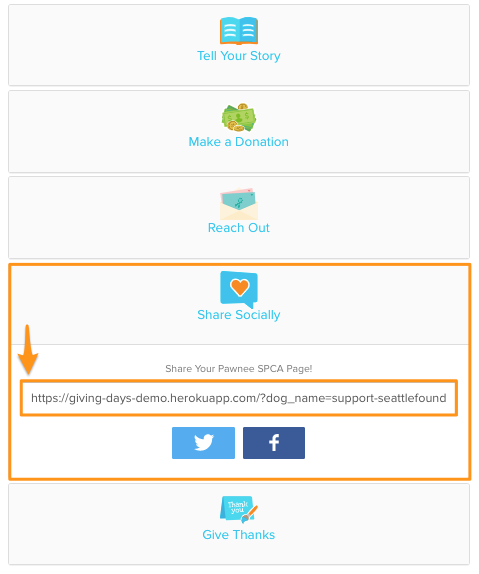 What am I responsible for?
We hope you find energy and excitement in sharing the important messages on how we can come together to provide hope for those struggling with homelessness in our community. Getting the word out and inspiring your friends and coworkers to give is how you can help reach the goal of raising over $100,000 on LIVE UNITED Give United Day! 
We need your energy, enthusiasm, and creativity! You'll make the most impact by being authentic, inspiring and creative while you share your LIVE UNITED Give United Day champion page. 
---
Thank you being a "champion" for children and families experiencing homelessness. By giving, rallying, and encouraging others to do the same, champions like you are the key to making LIVE UNITED Give United Day successful and changing the futures for our neighbors in need.
We hope the resources below will be helpful starting points for your champion rally. Every post and email you share will contribute to the success of the day. Also, make sure to follow United Way of Cass-Clay on Facebook (@unitedwayofcassclay), Twitter (@UnitedWayFargo), LinkedIn (@United Way of Cass-Clay), and Instagram (@unitedwaycassclay). Most importantly – have fun! 
---
Communication Guide & Templates
View
Images & Graphics
View Downloads